Welcome to Arcade Power!
Arcade Power was created to satisfy the needs of arcade gamers who strive for better gaming experiences through higher quality controllers.
We are proud to present to you our highly customizable Aegis arcade joystick box. Made with durable Malemine wood with T-moldings, along with reliable joysticks and buttons from Happ, the Aegis is THE best arcade gaming controller you can ever imagine.
Now you can also laminate the Aegis with a selection of pictures from us and choose from a polycarbonate or glossy finish. Don't like our pictures? Feel free to provide us your own!
Any questions? Feel free to send us an email and we'll be happy to help you!
*NEW*

WE HAVE MOVED!!!!!

We have moved to a new location:

Chartwell Shopping Centre

2301 Brimley Road Unit #153, Scarborough ON, M1S 5B8
---
Hori Fightstick Makeover!
We have recently updated our tutorial series with a new section showing how we replaced the faceplate and joystick of a Hori Fight stick V3. Click here to check it out now!
---
Mortal Kombat Fightstick Wireless Mod!
Our tutorial series is updated with a new section showing how we modded a customer's Mortal Kombat Fightstick to make it wireless. Click here to go there now!
---
Our Latest Fightstick!!
Another design as requested by a customer. Please check out our gallery for more designs!
---
Faceplate Change!
New tutorial series highlighting how we helped a customer transform his Madcatz Street Fighter IV fightstick into this beauty. Check it out here!
---
No More Visible Screws!
From this point on, all our joystick products will no longer have screws visible around the joystick area. Our Gallery is updated with new pictures.
---
Custom-Made Galaga Arcade Joystick
A customer requested us to remake his Namco arcade joystick as a present for his father as a birthday present. He needed a large enough joystick since the old one is too small. Moreover, he provided his own picture of his father's two loved ones to give him a surprise. Enjoy!
Our Gallery is now updated with more pictures, please take a look!
---
Street Fighter Twin Arcade Joystick (Custom-Made)
A couple of weeks ago, one of our customers wanted us to build him a twin arcade joystick for his own Street Fighter arcade cabinet. He provided all the measurements and the picture for lamination. This is one of the largest arcade joysticks that we've ever built. And we are extremely happy with the result.
Our Gallery is now updated with more pictures, please take a look!
We have also updated our Tutorial section with pictures of how we built this from scratch. Feel free to check it out!
---
Tekken 6 Hori Fighting Stick Bundle (Playstation 3)
Price: $149.99 CAD
Bundle includes:
- Tekken 6 game for Playstation 3
- USB wireless receiver
- Wireless Fighting Stick
- 2 x AA battery
- Tekken 6 art book
- Manual
We have a few Tekken 6 Hori Fighting Stick Bundles for the holiday season. This is brand new and unopened. Cheaper than all big-box retailers out there.
We do not hold reservations, please visit our store to purchase. Our location can be viewed here.
Limited supply only, so first come first serve!
---
Complete Makeover!
Today, our customer brought us a very special-looking arcade joystick that needed a complete makeover. And so this is what he got:
The custom lamination is provided by the customer. The quality is absolutely stunning!
Our Gallery is now updated with more pictures, please take a look!
We have also updated our Tutorial section with pictures of how we turned this special-looking arcade joystick into something much better looking. Feel free to check it out!
---
Early Bird Offer for Christmas!
With the holiday season fast approaching, we know that it may be difficult to find a good present for your beloved ones.
Whether that person be a casual or hardcore gamer, we believe that the Aegis arcade joystick is the perfect gift for them.
We are now offering free laminations for pictures that you provide to us for the Aegis joystick that you order. Normally, we charge $20 for customer-provided pictures. This is a limited time offer! It ends on December 10, 2009!
Why not laminate your family picture onto the joystick? Or how about a picture of your beloved ones or your friends? Make the Aegis joystick a memorable Christmas present!
Also, to avoid disappointment, we encourage you to place your order ahead of time to allow us to prepare and build your joystick before the Christmas week. It usually takes around 7 days to build, but this may increase to 2 weeks during holiday season.
Don't wait for last minute shopping! The offer ends on December 10, 2009! Email us at sales@arcadepower.ca and place your order today!
---
PS3 Cthulhu Board & Madcatz XBOX 360 Arcade Fight Stick Tournament Edition Dual Mod
Our tutorial section now contains our third tutorial series. We are showing you how to make a Madcatz XBOX 360 Arcade Fight Stick dual compatible with the PS3!
Check it out here!
---
Sanwa LB-30-N Joystick Bat Top
Check it out here!
---
PS3 and XBOX 360 Controller Dual Mod
We have uploaded our second tutorial series, and this time we're showing you how to make a PS3 and XBOX 360 dual controller mod!
Check it out here!
---
Madcatz 4716 XBOX 360 Controller Pad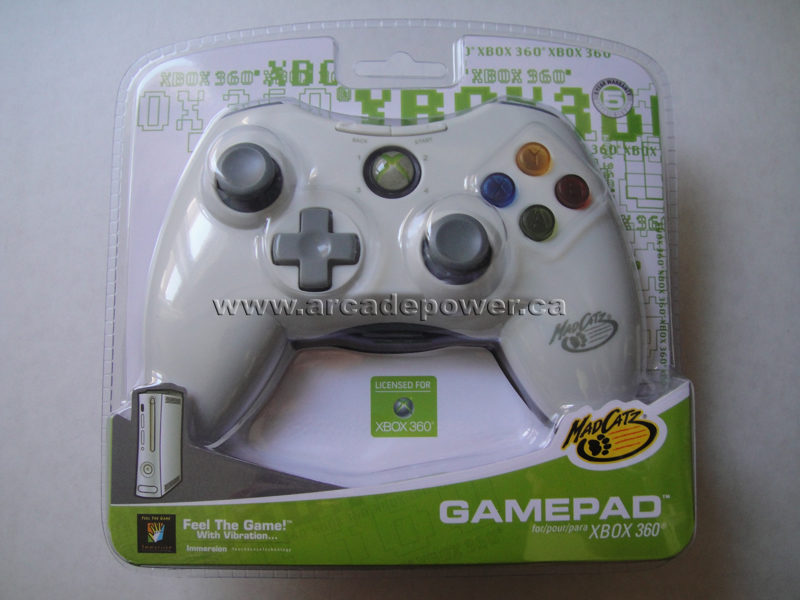 We've stocked up on some Madcatz XBOX 360 controller pads, which are commonly used to mod your joysticks. Item # 4716. Check it out here.
---
PS2 to XBOX 360 Controller Converter
Our parts section is now updated with a new product: the PS2 to XBOX 360 Controller Converter. Just as the name says, this converter allows you to use your Playstation 2 controller on your XBOX 360 system. Check out it out here for more details!
---
Make Your Own Joystick!
We have finally uploaded the fifth and final part of our tutorial on how to make your own arcade joystick for the PS3. The last section lists the steps to connect the wires together.
We hope that we have provided you all with some insights on how an arcade joystick is made. This is a really fun hobby and we hope that through our tutorial we are able to share that passion with you.
Visit the Tutorial section now!
---
Aegis - Sanwa Edition
Due to numerous requests for Sanwa buttons and joysticks to be put on our Aegis, we are now offering customers a choice to upgrade from Happ parts to Sanwa for an additional $36.
The Gallery is now updated with more pictures, please take a look!
---
Joystick Panel Layouts
The Products section now includes five different panel layouts for our joysticks. You will also get a taste of our official Aegis design for our laminations in three different colours on the same page.
---
Sanwa & Happ Joystick Parts for Sale!
Our shipment of Sanwa and Happ joysticks and parts have finally arrived this morning. After we confirm your payment, we will ship out within 48 hours. There is absolutely no need to wait for 2-3 weeks before ship out! If you are living in the Greater Toronto Area, you can come by our store to pick up your order without waiting!
Our Parts section is now updated, please check it out!